GS/JTS '20
Major: American Studies and Jewish Law
Concentration: Linguistics
Hometown: Minneapolis, Minnesota
As a member of Columbia Mock Trial, AJ has made irreplaceable friendships and has developed a deep appreciation for the law and the value of public service. AJ continues to participate in the activity because it offers incredibly challenging and enjoyable experiences that push him to be better in all aspects of his life. After undergrad, he hopes to attend law school and pursue a career in the field--a path in which Mock Trial has certainly given him an advantage.
CC '22
Major: Physics and Mathematics
Hometown: Yonkers, NY
Andrew has competed in mock trial since he was in a middle school and has loved every minute of it. Having helped build a great community on his high school team, he looks forward to diving into and becoming a part of the great mock trial community at Columbia. While it may seem bit out of the ordinary for a physics and math major to love mock trial to such a degree, Andrew believes that mock trial actually is a science in its own rite (one that may actually help him with whatever future physics endeavors await him). When not doing mock trial (or physics for that matter), Andrew likes to read, watch movies, watch baseball (Go Yankees!) and appreciate memes. After Columbia, Andrew hopes to either get a PhD in physics or go to law school.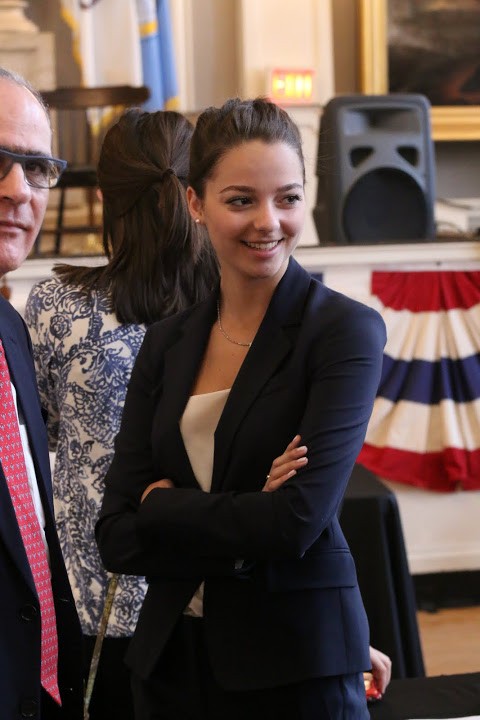 BC '21
Major: Political Science and English
Hometown: Boston, Massachusetts
Alexandra is a rising sophomore at Barnard College. Lovingly referred to as a rabid dog in the courtroom by her coaches, she hopes to continue her legacy of scaring the opposing team in the future. Alexandra loves Mock Trial almost as much as she loves her dog and the four cups of coffee she must down before doing anything every day. So that's saying a lot. Alexandra loves her team to pieces because they are always there for her, in and out of the courtroom.
BC '21
Major: French and Spanish
Hometown: Newcastle Upon Tyne, United Kingdom
Carla joined Mock Trial as a Sophomore after sensing, in a moment of inspiration, that she may like to pursue career in law after graduation. In Mock Trial, Carla is most excited to learn how to explain Mock Trial to those who have never done Mock Trial (having never done Mock Trial herself). When she is not at Mock Trial, Carla can usually be found running to dance rehearsal, trying to make dining hall food look somewhat appetizing, or singing in her suite, on the street, while babysitting, or anywhere else she feels the urge to do so. After college, Carla would also like to work in the US for a year, and will happily look to Hardy Hewson for advice in the matter.
CC '19
Major: Creative Writing
Hometown: Virginia Beach, Virginia
Caroline enjoys Mock Trial because it is one of the few environments in which standing up and yelling in the middle of what someone else is saying if you disagree with them is not only acceptable, but encouraged! Her other favorite part about the activity is making her teammates wildly uncomfortable by staring deep into their souls while crying on the stand in basically any role (*attempted* murderers have emotions too, okay?). When she is not in trial, Caroline can be found continuing her quest to make Mock Trial the most exclusive frat on campus or drinking large quantities of seltzer water. After college, she plans to write and act in New York for a bit before becoming a serious person and going to law school.
GS '19
Major: Political Science
Hometown: London, United Kingdom
Coming from a legal system better known for its stuffy accents and white wigs, Hardy joined Columbia Mock Trial with the glamour of Suits on his mind. Less Harvey Specter, more mangled British/German expert witness, it's safe to say he still hasn't made the transition! Even so, he loves the feeling of taking the stand knowing less than half his affidavit, and reliably walking straight into an impeachment.
In all seriousness, arriving as a Junior, Hardy found in CUMT a welcoming, talented, at times hysterical group of friends. When he is not doing Mock Trial, he can be found playing Columbia intramural football (soccer, if we must) or doing his best to avoid Butler.
GS '20
Major: Political Science and Human Rights
Hometown: San Luis RC, Sonora, Mexico
After getting rejected from both Debate and Improv, Isabel held no hope for her future. That is, until she made Columbia's Mock Trial team, both debate and improv combined. Her teammates make her feel right at home with their sarcasm and their ability to do things less awkwardly than she can. Isabel is the least experienced of them all but plans on winging it with her Latina accent and her one true talent, memorization. Outside of late mock trial practices, Isabel enjoys pretending to be a tourist, and complaining about the fact that there are no In-n-Outs on the east coast. After graduating, if she's not too in debt or missing, Isabel plans on going to law school and becoming an eventual judge.
CC '22
Major: Economics-Philosophy
Minor: East Asian Studies (Chinese)
Hometown: San Francisco, CA
Jaden joined Mock Trial because he heard that the January tournament was in Los Angeles. Hearing this, Jaden knew he had to hop on to the opportunity of getting a free ticket to see his grandpa in the Valley who has been guilting him into a visit since Passover last year. For this reason only, Jaden is excited to be a new member on Columbia Mock Trial. After doing MockTrial in high school, Jaden is looking forward to a more competitive, more zany, more elaborate Mock Trial circuit and after meeting the team, he knows he's found the perfect place for that. Outside of Mock Trial, you can find Jaden at every Columbia dining themed meal ever, walking passed the main elevator to take the Carman service elevator with the confidence of someone who lives there (he doesn't), or sitting on Low Steps with the Odyssey in one hand and an apple in the other feeling very collegiate. Although graduation feels like a lifetime away, Jaden plans on attending law school so he can take the very realistic skills he's learned in Mock Trial and put them to good use.
BC '20
Major: English
Hometown: Bethesda, MD
Jadie has done mock trial since high school—during which her career highlight was faking a knee injury so she could do her closing statement from behind a table instead of having to walk to the center of the room and risk tripping on her heels. Grace is not her strong suit. She joined CUMT because she enjoys brushing her teeth alongside friends in very small bathrooms, wearing nylons to court and pretending they don't have runs, and exploring the diverse array of Red Roof Inns across the country. Not all of them actually have red roofs. You'll learn things like that if you join Mock Trial. When not doing mock, she spends a lot of time reading books, getting shushed at movies, and telling Mashell Rahimzadeh that it is not appropriate to order a "medium" when at Starbucks.
BC '20
Major: Political Science and History
Hometown: Wilmington, Delaware
Jodi loves Mock Trial because it gives her an excuse to travel to states as unique as her home state of Delaware. Her favorite part about Mock Trial is going to compete in fun cities only to spend the whole time practicing in the hotel. Jodi is thankful for the family that she has made on this team, as well as the knowledge that 3/15 of her teammates can do splits during victory celebrations and 1/2 of her team can speak in accents on command (the jury is still out on her Irish accent). When not doing Mock Trial Jodi hangs out with people from Mock Trial. She is often seen scouting out seats in Butler Library and convincing friends from Mock Trial to come and fill them. One day Jodi hopes to graduate from Mock Trial to Real Trial.
Johanne Karizamimba,
VP of Internal Affairs
CC '20
Major: Political Science and History
Hometown: Southeast Missouri
When Johanne thinks about what Mock Trial means to him, he is always drawn to the philosophical musings of Aubrey Graham. This great street lyrical poet, who is more commonly referred to as Drake, once said, "What a time to be alive." To Johanne, this captures Mock Trial perfectly. It presents one with the opportunity to think on your feet, be intensely competitive, and make people believe a narrative that you create. Besides the intellectual challenge it presents, Mock Trial has given Johanne some of the best friendships and memories of his college experience. Simply, Mock Trial is very important to Johanne for a lot of reasons and he is glad to be apart of this "really big team" (as Mr. Graham would put it).
BC '20
Major: Economics, Political Science
Hometown: Long Island, New York
In 2012, Mashell's oldest sister joined college mock trial and encouraged her to try out the activity; Mashell said no.
In 2014, Mashell's other sister joined college mock trial and encouraged her to try out the activity; Mashell said no.
In 2016, Mashell joined college mock trial; the Debate team had said no.
Two years later and Mashell is totally over it. Seriously. Mock trial has given her opportunities that debate never could have. Like the opportunity to convince people that she's Italian and has a Long Island accent. Did you know that was possible for an obviously brown woman? Well it's not; not unless you're on CUMT.
When she's not doing mock trial, you'll probably find Mashell hanging around Lincoln Center pretending to be a Fordham student or trying to eat her way through all of Hell's Kitchen. You might even find her at Hungarian pastry shop with one Jadie Stillwell, after being kicked out of Starbucks for ordering a "medium."
CC '21
Major: Political Science and Psychology
Hometown: Manalapan, NJ
Matthew joined Mock Trial because, after finishing his first year in Columbia College, he wanted to find an activity to invest in heavily and a community to feel a sense of belonging in; he also joined because the e-board convinced him not to walk out of his tryout after he froze awkwardly in the middle of his monologue. Fortunately, Mock Trial seems to have supplied him with a fun way to spend Tuesday and Sunday nights, owing to the fact that the team appears to be a cult (in a good way) and the activity itself (from his VERY limited experience) is enjoyable. Outside of playing pretend, Matthew likes to listen to music and (since September) to ride his penny board. The latter has become his defining personality trait.
CC '22
Major: Political Science
Hometown: Long Island, NY
Megan's decision to join Mock Trial was twofold: 1) She hoped that it would one day get her into law school and 2) She didn't have the money to rush a sorority, so Mock Trial was the next best option to force people to be friends with her. Since joining the team she has not yet been contacted by any law school with an offer for immediate admittance, but Megan remains hopeful. Her favorite parts of Mock Trial include (but are not limited to) being able to say that she plays a "mental sport," getting to dress up in a power suit and heels, and becoming really close with her teammates through their shared self-deprecating jokes and lack of sleep. When she isn't doing mock trial, Megan is busy talking about Mock Trial to people who don't care, hiding behind doors and corners to scare her friends, and finding open seats in Butler at odd hours. After graduation Megan hopes to finally get into law school and continue representing fake clients for as long as they'll let her.
Michael Colton, Vice President for External Affairs

CC '22
Major: Political Science and Economics
Hometown: Evanston, IL
Michael, a former high school mock trialer, opted to join CUMT due to his passion for public speaking, his desire to improve his analytical skills, and his need to hold onto the good old days of high school. Equally influential in his decision was the opportunity to grow more versed in reading and arguing the law in preparation for a possible career in civil rights law down the road. Outside of the courtroom, Michael considers himself both a widely successful amateur basketball player and an up and coming Soundcloud musician. He, too exercises his love for the stage through sketch comedy and his dedication to writing and argument through work as an editor for school publications. The future is a mystery for this young man, but it's safe to say that the stage, the studio, or the court (room) are all hopeful destinations for Mr. Colton.
CC '20
Major: Art History and English
Hometown: Providence, Rhode Island
Owen joined mock trial because he participated in competitive sports and Model United Nations in high school, and wanted to be part of a competitive team and improve his public speaking skills. Luckily for Owen, Mock Trial does both of these things! Owen enjoys Mock Trial because the activity is essentially competitive storytelling, which appeals to him as an English major. Mock has also greatly improved his confidence and ability to think and speak on the spot, as well as formulate concise and coherent arguments. Through Mock Trial, Owen has met some of the most caring, fun, and interesting people. When not doing Mock Trial, he is typically reading, hanging out with friends, playing some pick up basketball, or exploring New York (mostly its art museums). After college, Owen would like to teach, write, or work in a museum, but he is open to other ideas and suggestions!
Shantanu Shenai, Vice President for Finance
CC '21
Major: Economics and Political Science
Hometown: Mumbai, India / Singapore, Singapore
Shantanu's experience in Mock Trial thus far has been truly unforgettable. After getting slaughtered as an attorney in his first tournament as a freshman, Shantanu and his team had a moment of inspiration: why not leverage his passable Indian accent to create a new character witness? And thus Shantanu transitioned from an eager young lawyer into an impossibly enthusiastic Uber driver from Ludhiana, Punjab (a role which he unashamedly embraced).
Outside the courtroom, Mock Trial has also given Shantanu the chance to make some amazing friends and travel to some of America's great cities (such as Lancaster, PA and Stevenson, MD). After Mock Trial and Columbia, Shantanu does not know exactly what he wants to do. He is, however, sure that he is going to disappoint his family by not becoming an engineer.
Tessa Silverman, President Emeritus
CC '19
Major: Human Rights
Hometown: Silver Spring, MD
Tessa has been doing Mock Trial for 8 years now, because it's her favorite thing ever. Tessa loves the activity and the community it's given her, and is so excited to spend her last year at Columbia competing alongside her amazing teammates. In the limited time during which she is not in practice or away at tournaments, Tessa likes watching Netflix (and can proudly say that she's watched The Office 3 times through), exploring New York City, and traveling with her friends and family. Tessa is interested in public defense work and hopes to one day become a lawyer and defend real live human beings in real cases. What a crazy concept!