Andrew Yablonsky, Vice President of Programming
GS/JTS '20
Major: American Studies and Jewish Law
Concentration: Linguistics
Hometown: Minneapolis, Minnesota
As a member of Columbia Mock Trial, AJ has made irreplaceable friendships and has developed a deep appreciation for the law and the value of public service. AJ continues to participate in the activity because it offers incredibly challenging and enjoyable experiences that push him to be better in all aspects of his life. After undergrad, he hopes to attend law school and pursue a career in the field--a path in which Mock Trial has certainly given him an advantage.
CC '22
Major: Physics and Mathematics
Hometown: Yonkers, NY
Andrew has competed in mock trial since he was in a middle school and has loved every minute of it. Having helped build a great community on his high school team, he looks forward to diving into and becoming a part of the great mock trial community at Columbia. While it may seem bit out of the ordinary for a physics and math major to love mock trial to such a degree, Andrew believes that mock trial actually is a science in its own rite (one that may actually help him with whatever future physics endeavors await him). When not doing mock trial (or physics for that matter), Andrew likes to read, watch movies, watch baseball (Go Yankees!) and appreciate memes. After Columbia, Andrew hopes to either get a PhD in physics or go to law school.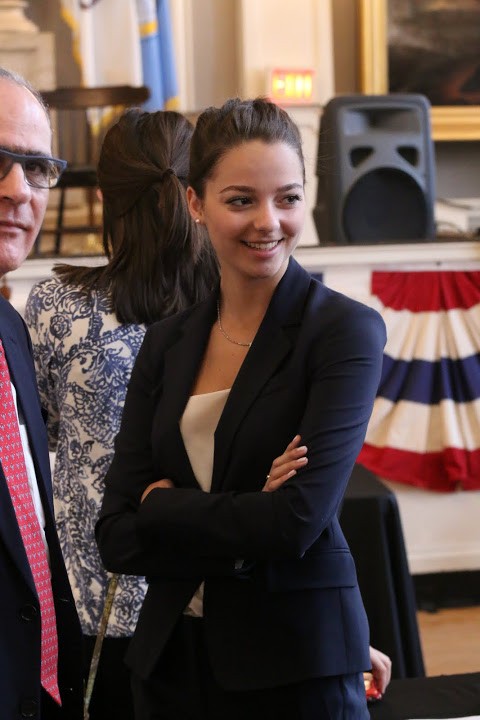 BC '21
Major: Political Science and English
Hometown: Boston, Massachusetts
Alexandra is a rising sophomore at Barnard College. Lovingly referred to as a rabid dog in the courtroom by her coaches, she hopes to continue her legacy of scaring the opposing team in the future. Alexandra loves Mock Trial almost as much as she loves her dog and the four cups of coffee she must down before doing anything every day. So that's saying a lot. Alexandra loves her team to pieces because they are always there for her, in and out of the courtroom.
BC '20
Major: Political Science and History
Hometown: Wilmington, Delaware
Jodi loves Mock Trial because it gives her an excuse to travel to states as unique as her home state of Delaware. Her favorite part about Mock Trial is going to compete in fun cities only to spend the whole time practicing in the hotel. Jodi is thankful for the family that she has made on this team, as well as the knowledge that 3/15 of her teammates can do splits during victory celebrations and 1/2 of her team can speak in accents on command (the jury is still out on her Irish accent). When not doing Mock Trial Jodi hangs out with people from Mock Trial. She is often seen scouting out seats in Butler Library and convincing friends from Mock Trial to come and fill them. One day Jodi hopes to graduate from Mock Trial to Real Trial.
Johanne Karizamimba,
VP of Internal Affairs
CC '20
Major: Political Science and History
Hometown: Southeast Missouri
When Johanne thinks about what Mock Trial means to him, he is always drawn to the philosophical musings of Aubrey Graham. This great street lyrical poet, who is more commonly referred to as Drake, once said, "What a time to be alive." To Johanne, this captures Mock Trial perfectly. It presents one with the opportunity to think on your feet, be intensely competitive, and make people believe a narrative that you create. Besides the intellectual challenge it presents, Mock Trial has given Johanne some of the best friendships and memories of his college experience. Simply, Mock Trial is very important to Johanne for a lot of reasons and he is glad to be apart of this "really big team" (as Mr. Graham would put it).
Mashell Rahimzadeh, Vice President of Finance
BC '20
Major: Economics, Political Science
Hometown: Long Island, New York
In 2012, Mashell's oldest sister joined college mock trial and encouraged her to try out the activity; Mashell said no.
In 2014, Mashell's other sister joined college mock trial and encouraged her to try out the activity; Mashell said no.
In 2016, Mashell joined college mock trial; the Debate team had said no.
Two years later and Mashell is totally over it. Seriously. Mock trial has given her opportunities that debate never could have. Like the opportunity to convince people that she's Italian and has a Long Island accent. Did you know that was possible for an obviously brown woman? Well it's not; not unless you're on CUMT.
When she's not doing mock trial, you'll probably find Mashell hanging around Lincoln Center pretending to be a Fordham student or trying to eat her way through all of Hell's Kitchen. You might even find her at Hungarian pastry shop with one Jadie Stillwell, after being kicked out of Starbucks for ordering a "medium."
CC '21
Major: Political Science and Psychology
Hometown: Manalapan, NJ
Matthew joined Mock Trial because, after finishing his first year in Columbia College, he wanted to find an activity to invest in heavily and a community to feel a sense of belonging in; he also joined because the e-board convinced him not to walk out of his tryout after he froze awkwardly in the middle of his monologue. Fortunately, Mock Trial seems to have supplied him with a fun way to spend Tuesday and Sunday nights, owing to the fact that the team appears to be a cult (in a good way) and the activity itself (from his VERY limited experience) is enjoyable. Outside of playing pretend, Matthew likes to listen to music and (since September) to ride his penny board. The latter has become his defining personality trait.
Megan Rodriguez, Vice President of External Affairs
CC '22
Major: Political Science
Hometown: Long Island, NY
Megan's decision to join Mock Trial was twofold: She hoped that it would one day get her into law school and (being a freshman when she joined) she was eager to force people to be friends with her. She has only accomplished one of those goals thus far. Megan's favorite parts of Mock Trial include (but are not limited to) being able to say that she plays a "mental sport," getting to dress up in a power suit and heels, and becoming really close with her teammates through their shared self-deprecating jokes and lack of sleep. When she isn't doing Mock Trial, Megan is busy talking about Mock Trial to people who don't care, hiding behind doors and corners to scare her friends, and finding open seats in Butler at odd hours. After graduation Megan hopes to finally get into law school and continue representing fake clients for as long as they'll let her.
CC '20
Major: Art History and English
Hometown: Providence, Rhode Island
Owen joined mock trial because he participated in competitive sports and Model United Nations in high school, and wanted to be part of a competitive team and improve his public speaking skills. Luckily for Owen, Mock Trial does both of these things! Owen enjoys Mock Trial because the activity is essentially competitive storytelling, which appeals to him as an English major. Mock has also greatly improved his confidence and ability to think and speak on the spot, as well as formulate concise and coherent arguments. Through Mock Trial, Owen has met some of the most caring, fun, and interesting people. When not doing Mock Trial, he is typically reading, hanging out with friends, playing some pick up basketball, or exploring New York (mostly its art museums). After college, Owen would like to teach, write, or work in a museum, but he is open to other ideas and suggestions!
BC '23
Major: Undeclared (English)
Hometown: Ridgefield, Connecticut
Tarini joined Mock Trial for two reasons: the first being that she did it in high school and loved the camaraderie, and the second being that her friends from high school Mock Trial kept telling her how much fun college Mock Trial is. She's ecstatic to be part of the Columbia Mock Trial community and to further develop her skills (as well as potentially compete against her former Mock Trial teammates). Tarini is also really happy that she won't have to peel off the "I can't I have Mock Trial" sticker from her laptop because the statement will probably apply at some point this year. Although she can't say for sure what she'll be doing outside of Mock Trial yet, it's a safe bet that she'll be trolling Morningside Heights for good coffee and begging her friends to go to art museums and concerts with her.
CC '22
Major: Philosophy
Hometown: Pleasanton, California
After five concussions which stopped Tiffany from pursuing her first love, sports, Tiffany found her true love, Mock Trial. Four years later, she is as obsessed with mock trial as she is with cheese. She loves mock trial because of the adrenaline rush she gets from public speaking and the competitive atmosphere that allows her to be aggressive without the fear of losing more brain cells.
In her free time, when she is not doing something related to Mock Trial, you will most likely find Tiffany debating some free speech issue, racing random people who are next to her on Dodge treadmills, or having an existential crisis out on Butler Lawn.
Many people predict that she will either end up as a Supreme Court Justice or as a homeless philosopher on the streets of NY. Only time will tell. But for now, Tiffany has her eyes set on law school and hopes to continue her study of constitutional law.